158 views, 2 views today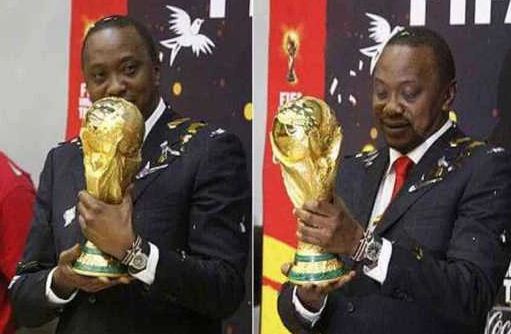 The FIFA World Cup trophy will land in Kenya on Thursday ahead of its two-day tour- between May 24th and 25th.
Coca-Cola in partnership with Fifa announced former Brazil defender Juliano Belletti as the FIFA World Cup trophy tour ambassador.
Belleti, who won the World Cup in 2002, is an assistant coach of Brazilian side Cruzeiro and formerly played for Villareal, Barcelona and Chelsea.
The trophy will be on public display on Friday at the KICC where thousands of football lovers will get a chance to take a souvenir picture with the trophy.
Coca-Cola is giving away 3,000 tickets to consumers participating in the Fifa World Cup Buy and Win promotion where they will get a VIP viewing experience of the trophy at KICC.
However, only one Kenyan will be allowed to touch the trophy.
President Uhuru Kenyatta will receive the FIFA World Cup trophy at State House, Nairobi Thursday.
He is the only person in Kenya who will be allowed to hoist the trophy on Friday, May 27.
In fact, according to Fifa, the original World Cup trophy can only be touched and held by a select group of people including former winners and heads of state.
In 2010, the late President Mwai Kibaki was the only one allowed to touch the trophy when the trophy toured Kenya ahead of the first World Cup an African soil hosted in South Africa.
This year, the World Cup Trophy will visit 51 football nations.
The World Cup trophy is made of solid gold and weighs 6.142kg. The trophy depicts two human figures holding the globe aloft. Its current design dates back to 1974.
The 2022 Fifa world Cup will be held in Qatar from November 21 to December 18. It will be the first World Cup to be staged in the Middle East.
Africa will be represented by five nations, namely, Cameroon, Ghana, Morocco, Tunisia and Senegal.
Join
shareasale.com
, and Earn Cash $15 Daily As An Affiliate starting now!